What is the development prospect of China's display driver chip industry in 2023?
05/08/2023
1. Current status of the display driver chip industry
1. Market size of display driver chips
With the continuous maturity of new technologies such as the Internet of Things, 5G communications, artificial intelligence, and big data, the industrial upgrading process of major downstream manufacturing industries of integrated circuits such as consumer electronics, industrial control, automotive electronics, medical electronics, and intelligent manufacturing has accelerated. China's display driver chips The market size is growing rapidly, from 11.83 billion yuan in 2017 to 45.29 billion yuan in 2021. In the second half of 2022, due to the sluggish demand for consumer electronics display driver chips such as mobile phones, the market size will drop to about 36.82 billion yuan. In the future, with the growth of application demand in the OLED field and the automotive field, the market size is expected to recover steadily to 40.39 billion yuan.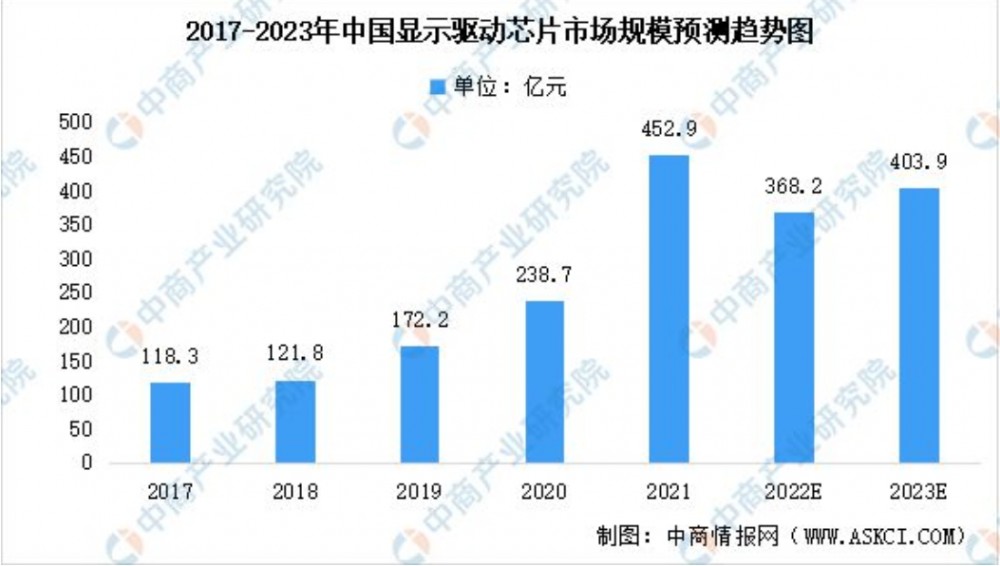 2. Display driver chip shipments
With the acceleration of the development of emerging application fields such as AR/VR, Mini/Micro-LED display applications are accelerating. Inheriting the advantages of OLED, Mini/Micro-LED is superior in miniature size, low power consumption, high color saturation, and response speed. At the same time, it has a longer service life than OLED, and can basically meet all the technologies of AR/VR for microdisplays. It is expected to become the mainstream display technology of the next generation. Data shows that in 2021, China's display driver chip shipments will reach 4.66 billion, and it is expected that China's display driver chip shipments will reach 5.09 billion in 2023.
3. Display driver chip segment shipments
From the perspective of segmented fields, the display driver chip market can be divided into integrated chips and discrete chips. The growth of integrated display driver chips mainly comes from the expansion of the market scope and the increase in the proportion of integrated AMOLED display driver chips, while the growth of separate display driver chips mainly comes from TFT-LCD vehicle displays, notebook computers and 4K, 8K ultra-high definition Increase in TV penetration. The data shows that in 2021, China's TFT-LCD display driver chip shipments will reach 3.75 billion, TDDI shipments will reach 670 million, and AMOLED display driver chip shipments will reach 230 million. It is estimated that the development potential of TFT-LCD display drivers will be greater in 2023, and the shipment will reach 3.97 billion units.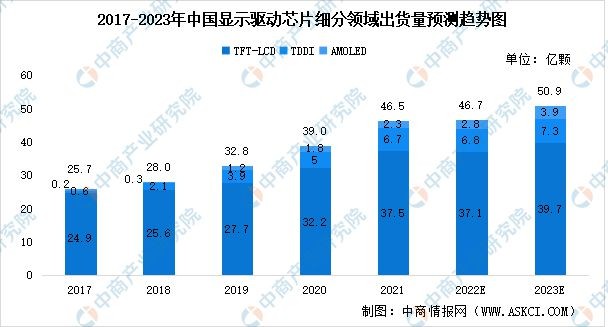 4. Downstream applications of display driver chips
The terminal application markets of display chips mainly include smart wearables, mobile phones, industrial control displays, tablet computers, IT displays, TVs, and commercial displays. Among them, market segments such as smart wearables, mobile phones, and tablet computers can be collectively referred to as the smart mobile terminal market. It is estimated that in 2023, the shipment of display driver chips in TV and commercial display applications will be the largest, reaching 2.53 billion units; followed by the IT display field, with shipments of 2.21 billion units.
3. Development prospects of display driver chips
1. National policies help the development of the integrated circuit industry
Integrated circuits are fundamental, leading and strategic industries related to national economic and social development. Especially in the context of the continuous fermentation of Sino-US trade frictions, they have received strong support from the state. In recent years, the state has introduced a series of policies and regulations in terms of finance, taxation, technology and talents, which have effectively promoted the sustainable development of the integrated circuit industry and are conducive to improving the sustainable competitiveness of my country's integrated circuit industry.
2. Industrial technological innovation promotes continuous expansion of application fields
In the field of panel display driver chips, with technological innovation, the diversified and personalized consumer demands of consumers and merchants are increasing day by day. For example, in terms of smartphone display, consumers tend to have more refined and diversified requirements for picture quality, screen shape and area, and machine manufacturers have also made technological breakthroughs in the fields of borderless display, under-screen fingerprints, and curved screens. Chip design companies need to continue to be committed to promoting technological changes including ultra-high fluency, stability, contrast, screen-to-body ratio, etc., to cater to consumer needs.
In the field of LED display driver chips, as the dot pitch of downstream LED displays continues to shrink, the application fields of LED displays continue to expand. For example, small-pitch LEDs have realized the scene change of LED displays from outdoors to indoors, and Mini LED is expected to realize LED displays. Entering the transformation of home application scenarios, Micro LED will focus on near-screen applications such as mobile phones, smart watches, and AR/VR. The continuous expansion of the application field of LED displays will bring a broad market space for the development of the company's LED display driver chips.
3. The overall maturity of the integrated circuit industry chain promotes the development of the industry
The center of global integrated circuit development is gradually shifting to mainland China. In 2021, the scale of my country's integrated circuit industry will be 1,045.8 billion yuan, accounting for more than 30% of the global market. Excellent chip design and R&D personnel from overseas continue to join mainland Chinese companies, improving the R&D strength of Chinese mainland companies. In the process of shifting the center of gravity of the global integrated circuit industry, the introduction of advanced technology and excellent personnel has provided strong support for the rapid development of chip design companies in mainland China, and the panel factories that have continuously expanded their production scale have also provided a broad market base.
For more information please feel free to contact us.